Back to top
News and Announcements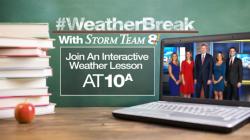 BORED???? Storm Team 8 hosting meteorology lessons online

BORED????

Storm Team 8 hosting meteorology lessons online for students at home during coronavirus pandemic
WEATHER
Weather Break with Storm Team 8 airs at 10 a.m. this week on WFLA Now

AGAIN we thank you for your patience. Teachers are being trained today by Administration. Teachers will be reaching out to you soon to ensure that all our students receive instruction via online.

Go Bulldogs!!!!!!!
https://www.wfla.com/weather/storm-team-8-hos...